Here is an Ideal: Instead of pasting the picture of the face of that POS coward shooter everywhere, how about we post pictures of these heroes….and also, say a prayer for all the families as they are going through this dark time.
The authorities have begun releasing the names of the four Marines killed in Muhammed Youssef Abdulazeez' attacks on a military recruiting office and Navy -Marine training center in Chattanooga, Tennessee.
One of the victims was 40-year-old Marine Gunnery Sergeant Thomas Sullivan of Springfield, Massachusetts. "Terror comes home to Massachusetts. God Bless Tom Sullivan and his family and friends," wrote Governor Charlie Baker, who extended his condolences to the family, as reported by the Boston Globe.
The mayor of Springfield, Domenic J. Sarno, described Sullivan's killing as an "assassination" and said his death was "a tragic loss not just for the Springfield community but for our entire nation."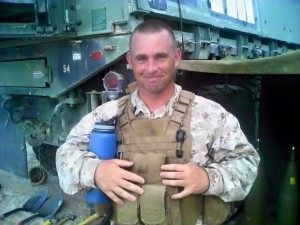 Cathedral High School, the Catholic school he graduated from in 1994, posted a Facebook message reading, "This morning it is with heavy hearts that we share the news of the passing of our Cathedral brother, Thomas Sullivan '94. Thomas, a Gunnery Sgt., Iraq veteran and Purple Heart recipient was killed yesterday in Chattanooga, Tennessee."
Sullivan's brother Joseph, who MassLive reports is also a war veteran, is part-owner of an establishment called Nathan Bill's Bar & Restaurant, which also commemorated him with a Facebook message: "Rest In Peace Gunnery SGT. Thomas Sullivan. Anyone who went to Holy Cross School, Cathedral High School or grew up in the East Forest Park knew who Tommy was. He was our hero and he will never be forgotten. Please keep his family & friends in your thoughts & prayers. Thank you Tommy for protecting us."
According to Fox News, Sullivan "served in India Battery, 3rd Battalion, 12th Marines and fought in the 2005 Battle of Abu Ghraib, where he earned a Combat Action medal and Purple Heart."  A friend testified there was "no Marine you would want that was better in combat than him."
"For those who have not heard yet, one of the four Marines murdered today was one of our own – Thomas Sullivan. Please keep his family in your thoughts and prayers. Semper Fidelis Zimminite!" reads a post on Facebook from the India Battery, 3rd Battalion, 12th Marines.
Read the Remainder at Breitbart News